"Very happy! Helped my wife tremendously with inflammation!...noticed within a week" - Smullis, DHA Omega-3 Ultra Customer
Support Healthy Inflammation, Insulin Levels and Immune Response
 with High DHA + Astaxanthin + Vitamin D3 with VESISorb® for 6 Times BETTER Absorption!
Reduce chronic inflammation at the cellular level with the patented VESISorb® delivery system which turns poorly-absorbed Omega-3, Vitamin D3 and Astaxanthin into water soluble nano-droplets that bypass digestion and are 6X better absorbed by damaged cells for rapid anti-inflammatory response.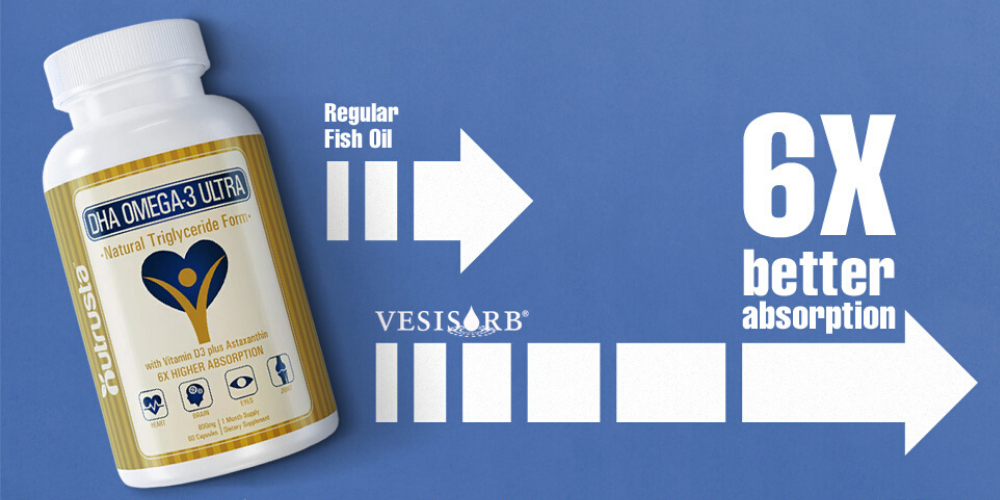 Favorable 6:1 DHA-to-EPA ratio that more closely matches the actual omega-3 fatty acid ratio found in cell membranes. DHA comprises 40% of the polyunsaturated fatty acids (PUFAs) in the brain and 60% of the PUFAs in the retina. Fifty percent of the weight of a neuron's plasma membrane is composed of DHA. Most adults are deficient in DHA.
Made with 100% water-soluble VESIsorb®, a patented technology that enables 6X greater absorption than regular fish oil supplements.
Supercritical C02 extraction technology purifies and encapsulates without oxygen exposure, yielding a CLEAN DHA supplement with NO rancidity.
Natural triglyceride (TG) omega-3s, a bio-identical form sourced from anchovy that is 70% more absorbable than ethyl ester.
Formulated with AstaReal® Astaxanthin for protective antioxidant support and Vitamin D3 to promote overall wellness.
Small softgels: Easy to swallow. NO fishy after taste. NO gastric side effects.
Non-GMO, Gluten Free, Soy Free. Made in USA in NSF & GMP certified facility. BPA Free bottles.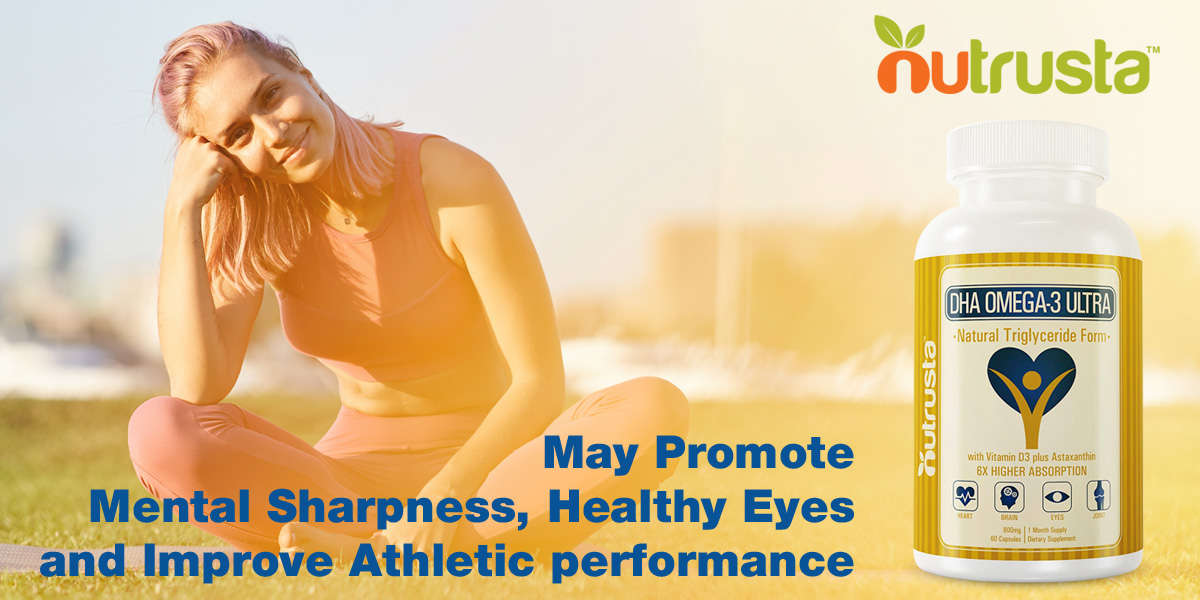 Discover How You Can Support Your Cells' Natural Defense Against the #1 ROOT Cause of Chronic Disease, Mental Deterioration & Rapid Aging …
Now is the time you should pay attention and take preventative & restorative action if you're experiencing warning signs like…
Joint pain
Nerve pain
Slow metabolism
Exhaustion, or frequent bouts of cold or flu
Looking older than you think you should
Skin conditions
Mood swings
Foggy thinking or failure to remember things
Feeling stressed
Roller-coaster blood glucose
Why? Because if you're experiencing any of the signs above, you're likely suffering from the #1 cause of all deadly disease, painful ailment and rapid aging - chronic inflammation.

The same chronic inflammation caused by consuming more Omega 6, than Omega 3. In fact, most people on a Western diet (wheat-based, highly-processed foods) get up to 25 times more Omega 6 than they need in a day—and a deteriorating amount of Omega 3.


What if you could quickly and easily support your body's natural, built-in process for restoring balance?


Without wasting your money on supplements your body can't absorb?

It's important to realize that not all Omega-3 supplements are created equal.
Here's how Nutrusta DHA Omega 3 Ultra, Pure Triglyceride with Vitamin D3 & Astaxanthin supports your body's natural restorative processes:
Supports healthy heart function
Supports healthy cholesterol levels
Promotes healthy brain function
Promotes healthy eyes
Supports healthy joint function
Helps speed recovery, increase gains and athletic performance
Supports normal blood sugar levels
Protects the skin against premature aging
Provides powerful protection against free radicals
SEVEN reasons why Nutrusta DHA Omega 3 Ultra, 100% Natural Triglyceride Fish Oil with Vitamin D3 & Astaxanthin supports your body's restorative processes...

1. Highly Absorbable and Bioavailable
VESIsorb® is a clinically proven delivery technology which creates a nano-size droplet around each fish oil molecule, allowing these micron-sized molecules to skip the digestion process in the stomach altogether thereby delivering 100% of the critical super-nutrients to support your cells, brain, muscles and organs. Imagine the money you'll save because you'll only need to take 1 small VESIsorb® softgel instead of 6 of the other brands' large capsules.


Plus VESIsorb® technology protects the nutrient-dense fish oil from harmful oxidation that occurs when exposed to light, heat, oxygen, storage or shipping.

2.Potent 6:1 DHA to EPA Ratio
Human cell membranes contain 5-10 times more DHA than EPA and compelling research shows that DHA is the most important fatty acid that provides the critical health benefits to the eyes, heart and brain.

Consuming too much EPA could actually block DHA's benefits. DHA can be converted into EPA by the body but not the other way round. Our formula provides up to 50 times more DHA than regular fish oil.

3. Supercritical CO2 Extraction for Purity and Freshness
The fish oil you take must meet international standards for heavy metals, PCBs, dioxins and other contaminants. Many do not – even when they claim they do. That's why we use supercritical CO2 technology to gently extract (i.e no chemical solvents, no high temperatures used), concentrate, and purify the omega–3 fatty acids.

The CO2 prevents oxygen from being exposed to the oil, therefore protecting the oil from degradation, which would make the oil rancid, contributing to your body's inflammation!

4. Natural Triglycerides from Sustainably Caught Wild Fish
Because larger fish like tuna are often caught when they become large, and old, they contain heavy metals and pesticides, so we extract our nutrients from only deep cold water anchovies using sustainable methods. It's better for you, and better for our environment.


There's more. If you'd like to see maximum benefits from the triglycerides, you'll need to skip over the Omega-3 products created from "ethyl ester", which many companies use to cheaply cut corners. Always look for triglycerides derived from naturally caught, deep water wild fish because they're 3 times more absorbable (than ethyl ester).

5. Advanced Formulation
No other product contains this preventive formulation of higher DHA to EPA, Astaxanthin and Vitamin D3 with 6 times higher absorption—a formulation that helps aid your body to achieve restorative health.


Vitamin D3 is not only essential for strong bones, it supports cell growth, helps in DNA repair and metabolic processes, strengthens the immune system and supports cardiovascular health.

Astaxanthin is an especially powerful and long-lasting antioxidant. Astaxanthin has been shown to support eye, brain, joint and skin health, healthy blood sugar levels, endurance and weight control.

6. Small & Easy to Swallow
If you're like us, you hate the idea of choking down large, sticky horse pills. That's why we packed all of the super-ingredients into a single, small, easy to swallow softgel you'll only need to take twice a day, with or without a meal.

7. Pure, Natural & Guaranteed Safe
It contains all the great stuff you need, and none of the junk you're trying to avoid. You can take a deep breath because this holistic formulation contains…


NO SOY. NO GLUTEN. NO-GMO. NO PRESERVATIVES. NO HEAVY METALS. NO POLYSORBATES.


And every Nutrusta DHA Omega 3 Ultra softgel you swallow meets or exceeds GOED and IFOS standards, is manufactured in the USA in an NSF & GMP certified manufacturing facility and comes in a fresh-locked, tamper-proof Bisphenol A (BPA)-FREE container.
The truth is, there's only one arena where our competition outshines us:


Mass Production


Because our patented process requires time to ensure you're getting the best in each gel, we are only able to produce small batches—resulting in limited availability.


We're not here to convince you, just to help you make an informed decision, which is why we offer a 60-day, 100% Full Satisfaction Guarantee.


While most customers begin to feel positive in days, some need more time.


So we say, "Try it. Love it." If you're not satisfied, for any reason, we'll personally replace it or send you a full refund.


Discover how you can easily experience the benefits you're after with Nutrusta DHA Omega 3 Ultra, 100% Natural Triglyceride with Vitamin D3 & Astaxanthin.
Dyerberg J, Leaf A, Galli C et al. ISSFAL board statement: Recommendations for the essential fatty acid requirement for infant formulas. J Am Coll Nutr 1995; 14: 213]14.
Innis SM. The 1993 Borden Award Lecture. Fatty acid requirements of the newborn. Can J Physiol Pharmacol 1994; 72: 1483]92.
Anderson GJ. Developmental sensitivity of the brain to dietary n-3 fatty acids. J Lipid Res 1994; 35: 105]11.
Ikemoto A, Kobayashi T, Watanabe S, Okuyama H. Membrane fatty acid modifications of PC12 cells by arachidonate or docosahexaenoate affect neurite outgrowth but not norepinephrine release. Neurochem Res 1997; 22: 671]8.
Green P, Yavin E. Mechanisms of docosahexaenoic acid accretion in the fetal brain. J Neurosci Res 1998; 52: 129]36.
DHA with learning and behavior in healthy children- Nutrients
Neuringer M. Cerebral cortex docosahexaenoic acid is lower in formula-fed than in breast-fed infants. Nutr Re¨ 1993; 51: 238]41.
Salem N, Jr., Litman B, Kim HY, Gawrisch K. Mechanisms of action of docosahexaenoic acid in the nervous system. Lipids. 2001 Sep;36(9):945-59.
Chalon S, ion-Vancassel S, Belzung C, et al. Dietary fish oil affects monoaminergic neurotransmission and behavior in rats. J Nutr. 1998 Dec;128(12):2512-9.
Sergeeva M, Strokin M, Reiser G. Regulation of intracellular calcium levels by polyunsaturated fatty acids, arachidonic acid and docosahexaenoic acid, in astrocytes: possible involvement of phospholipase A2. Reprod Nutr Dev. 2005 Sep;45(5):633-46.
Kim HY, Akbar M, Lau A, Edsall L. Inhibition of neuronal apoptosis by docosahexaenoic acid (22:6omega-3). Role of phosphatidylserine in antiapoptotic effect. J Biol Chem. 2000 Nov 10;275(45):35215-23.
Delwaide PJ, Gyselynck-Mambourg AM, Hurlet A, Ylieff M. Double-blind randomized controlled study of phosphatidylserine in senile demented patients. Acta Neurol Scand. 1986 Feb;73(2):136-40.
Serum Phospholipid Docosehexaenoic Acid is Associated with Cognitive Functioning during Middle Adulthood - The Journal of Nutrition
Chronic administration of docosahexaenoic acid improves reference memory-related learning ability in young rats- Neuroscience
Improved Working Memory but No Effect on Striatal Vesicular Monamine Transporter Type 2 after Omega-3 Polyunsaturated Fatty Acid Supplementation - PLOS One
DHA Supplementation Improved Both Memory and Reaction Time in Healthy Young Adults: a Randomized Controlled Trial - The American Journal of Clinical Nutrition
The Effect of Docosahexaenoic Acid on Aggression in Young Adults. A Placebo-Controlled Double-Blind Study - The Journal of Clinical Investigation
Anti-Stress Effects of DHA - Biofactors
The Effect of Docosahexaenoic Acid on Aggression in Elderly Thai Subjects – A Placebo-Controlled Double-Blind Study - Nutritional Neuroscience
Effects of Dietary n-3 or n-6 Fatty Acids on Interleukin-1 beta-Induced Anxiety, Stress, and Inflammatory Responses in Rats - Journal of Lipid Research
Benefits of fish oil supplementation in hyperlipidemia: a systematic review and meta-analysis - International Journal of Cardiology
n-3 fatty acids and serum lipoproteins: human studies - American Journal of Clinical Nutrition
Effects of eicosapentaenoic acid versus docosahexaenoic acid on serum lipids: a systematic review and meta-analysis - Current Atherosclerosis Reports
Mori TA. Omega-3 fatty acids and hypertension in humans. Clin Exp Pharmacol Physiol. 2006 Sep;33(9):842-6. Review.
Visioli F, Risé P, Barassi MC, Marangoni F, Galli C. (2003). Dietary intake of fish vs. formulations leads to higher plasma concentrations of n-3 fatty acids. Lipids, 38, 415-8.
Liu ZX, Artmann C: Relative bioavailability comparison of different coenzyme Q10 formulations with a novel delivery system. Alternative therapies in health and medicine 2009, 15:42-46.