INTRODUCING...YOUR NEW INFLAMMATION-BUSTING OMEGA-3 FORMULA!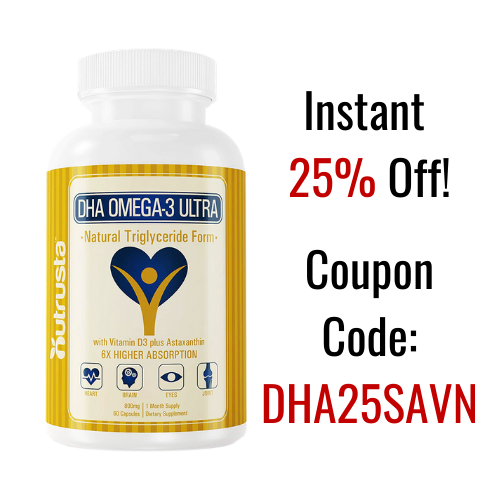 Omega-3 supplements are NOT created equal! Try Nutrusta DHA Omega-3 Ultra!
✔︎Natural triglyceride (TG) omega-3s, a bio-identical form sourced from anchovy that is 70% more absorbable than synthetic. ✔︎Favorable 6:1 DHA-to-EPA ratio that more closely matches the actual Omega-3 fatty acid ratio found in cell membranes. ✔︎Made with 100% water-soluble VESIsorb®, a patented technology that enables 6X greater absorption than regular fish oil supplements. ✔︎Supercritical C02 extraction technology purifies and encapsulates without oxygen exposure, yielding a clean DHA supplement with NO rancidity. ✔︎Formulated with AstaREAL™ astaxanthin for protective antioxidant support and vitamin D3 to promote overall wellness. ✔︎Quality softgels: Easy to swallow, easy to digest, and no fishy taste or gastric side effects. ✔︎Non-GMO, Gluten Free, Soy Free. Made in USA in NSF & GMP certified facility. BPA-free bottles.

If you're a first time customer, click the button and use coupon code DHA25SAVN at checkout to get 25% off your first bottle.
YES, I'M READY TO TRY>>